NCBA ViSA by Signature FCU
A Member Benefit
National Creditors Bar Association is always looking for added services that will benefit our membership and our organization. That is why we are excited and pleased to announce that we recently partnered with Signature Federal Credit Union (FCU) to offer credit union membership to our members all over the country, as well as an exclusive NCBA-branded Visa credit card with our logo, which gives back to our organization and gives YOU 1 point for every $1 you spend, to redeem for travel and merchandise. The card has no annual fee, no balance transfer fees, no foreign transaction fees, and has a very low interest rate.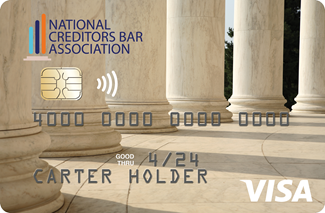 Credit Unions are managed by a member-elected board of directors and are not for profit organizations, so revenue generated from investments and loan interest goes back to its members in the form of higher share savings dividends, lower loan rates, and free or low fee services. A credit union requires eligibility, sort of like a private club, and your membership in NCBA will give you that access.
Signature FCU is a full service, nationwide federal credit union operating since 1970, and all accounts are federally insured by the National Credit Union Administration for up to $250,000. When you become a member of Signature FCU, you're eligible to apply for all of its products and services. Some of its most popular products include high-yield checking accounts, certificates and IRAs, new and used auto loans at the same great rate, student loans, home equity loans up to 100% LTV, and up to 97% financing on mortgage loans nationwide.
All Signature FCU members have access to their accounts 24/7 through its online branch and mobile banking app, over 30,000 FREE ATMs and 5,000+ shared branches across the country.
We sincerely hope you will show your pride and support in National Creditors Bar Association and apply for the National Creditors Bar Association Visa card, and encourage you to take advantage of Signature FCU's other great products and services.